Informatce k závodu
1. Datum a program
Friday, May 27
Accreditation
Official trainings on the venue
ITO / NTO – Seminar & Exam
Team leaders meeting
Evening - Opening Ceremony
SUP - Sprint Race - cancelled

Saturday, May 28
Marathon - Short Distance heats and finals
K1 men / women - juniors / seniors
C1 men / women - juniors / seniors
Marathon - Standard distance
K1/C1 women / men - masters
SUP - Technical Race in the morning, Long Race in the evening
men / women - juniors / seniors / masters / iSup
Sunday, May 29
Marathon - Standard distance
K1 women / men - juniors / seniors
C1 women / men - juniors / seniors

2. Venue
The race will take place on the Water Sport Club KVS PRAHA: https://www.kvspraha.cz/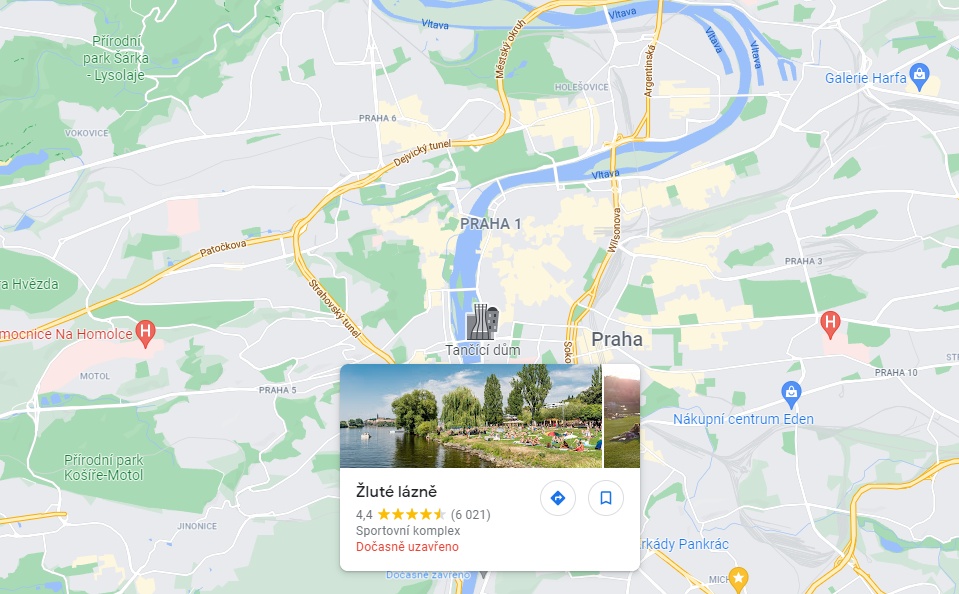 The start and finish line and the portage will be in the same area.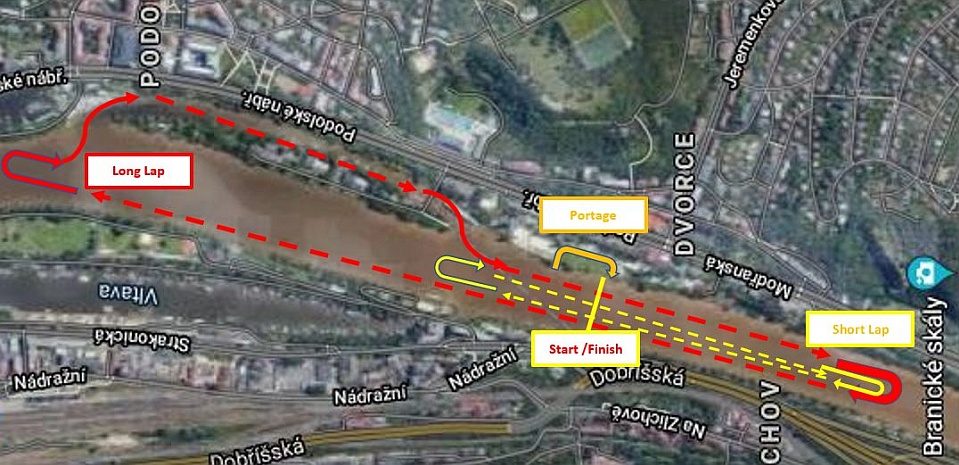 Sup technical race:
3. Rules
Races will be held according to the ICF rules.
SUP Races info:
Technical: each category will start separately. Qualification system (heats, semifinals, finals) will be specified based on the amount of participants in each category.
Long: There will be only two starting lines. One for men (Junior, Open, Master, iSup) and one for all women will start a few minutes later. Open and Maters will go 4 laps, while Juniors and iSup will go 3 laps. There will be no portage.
We would like to make it possible for Juniors to compete with the best, so after a long discussion we decided to let Juniors race on carbon hard boards, to create as fair conditions as possible.
Please be aware: there are price money for overall winner in men and women category. If there is Junior or iSup racer aiming for price money he/she must sign for open/master race.
4. Deadlines, Entries & Registration
All team entries (numerical and nominal) must be made online through SDP system from ICF.
Link: http://icf.msl.es
Entries can only be submitted by the National Federation through the online entries system SDP by the specified closing date (midnight European time / European summer time GMT +1 or GMT +2).
Anyone having issues accessing the system should email sdp@canoeicf.com and specify their NF and the specific issue encountered, in advance of the closing date for entries.
If there is any problem concerning the entries, please contact: ruud.heijselaar@canoeicf.com
The entries system will be online and available during the following dates:
Numerical entries until April 12th, 2022
Nominal entries until May 18th, 2022
ICF Prague SUP Race - World Ranking - registartion HERE
5. Participation Fee
You have to pay a participation fee of € 30, - per person per day, which includes the following:
Accreditation
Medical Care at the Course
Lunch - three-course lunch menu in racing days
Security Service at the Course
Organisation Fee
Drinking Water during competition days
Access to the competition venues for the purpose of training and other activities.
Boat storage
Free Wi-Fi at the competition venues
The entry fee is calculated from the time of the arrival of the sports team, until the team leaves.
SUP Participation Fee:
Men/Women, Open, Junior, Masters is 50,- Euros for both races (Technical and Long)
iSup (Hobby) will pay 20,- Euros
7. Logistics
Terms of Payment
Participation fee shall be paid to the Organizing Committee together with Nominal entries until

May 18th, 2022.
All fees in connection with bank transfer to be paid by the sender.
Please make payments for the fee incurred by the whole team during their entire stay.
You are kindly requested to print the bank remittance and take it with you when check in.
Your reservation will be successful when we receive the advance payment.
When your participation fee is fully charged, the organizing committees will send an electronic confirmation notice.
Catering
There will be official three-course lunch menu catering provided during racing days for registered kayak and canoe participants – price is included in the Participation Fee.
Additional to this there will be possible to order menu ticket for special price € 20, - or choose from wide range of gastro services in the Venue Area that will be open for participants and public.
Transport Services
Transport from and to Airport cost € 20, - per person per transport – more details with booking form incl. board transport service will follow in the Bulletin No.2.
8. Other Information
Visa
Please follow actual information on official web: https://www.mzv.cz/jnp/en/information_for_aliens/
Insurance & Medical Care & Covid-19 Protocol
Please follow actual information on official web: https://koronavirus.mzcr.cz/en/
The Organization will follow the ICF guidelines concerning Covid-19 protocol.
All participants are strongly advised to have appropriate medical insurance from their respective countries.
A First Aid and Emergency Medical Service will be available at the course. A Hospital nearby the venue will be on standby to cover the needs during the event. All situation of hospital services provided in our public health care service must be paid directly by the athlete or by the National Federation.
Boat Rental & Containers
Boat racks are provided according to the allocation either in the boat storage tent, in the athlete's area. The trailers will be stored in the established area.
The official rental service (canoe / kayak / SUP) for this event will be provided by ICF's partners.
Detailed information will be published in the second bulletin.
Anti-Doping Control
For the ICF World Championships, ICF World Cups and ICF Ranking Races and Continental Championships, every athlete, coach and support personnel must pass the relevant anti-doping online course on the Anti-Doping Education Learning platform (ADEL) corresponding to their role.
More information on the website: https://www.canoeicf.com/anti-doping-education